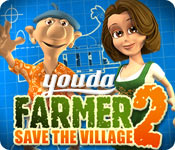 There is no stopping Youda Games, their latest release Youda Farmer 2: Save the Village is a sequel to the very popular first installment of Youda Farmer.
You are a good little girl, not like that nasty Big Boss who has current reign of the village. He is a piece of work with evil intentions and greedy motives.
His first order of the day is to destroy your farm where he wants to put ugly parking garages. You KNOW you want to stop him and rebuild the beautiful land that once was.
So you start from the beginning, driving around in your colour customisable ute and selling produce to the local stores.
As levels progress you can upgrade and build different facilities and grow your farm while saving the world…well, at least saving the village.
A fun time management game, where you need to please customers, manage truck inventory and use recipes to create requested items and if you can do all that, the good guy might just win the game!
Download the FREE trial: Youda Farmer 2: Save the Village