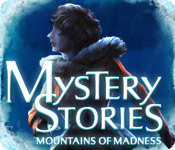 I was sent over to Big Fish Games this afternoon to check out a new hidden object game, because I'm on holidays from the day job and have so many extra hours I thought why not! I then proceeded to spend the afternoon playing Mystery Stories: Mountains of Madness.
PC Games really do have a knack of drawing me in and hidden object games are great for the powers of observation. It may look like I'm sitting here playing games but I am really exercising the grey matter and honing my observational skills – both of which are very important in every day life. (That's what I tell myself anyway).
Mystery Stories: Mountains of Madness is an intriguing tale of an expedition to the snowy wilds gone wrong. It is shaping up to be the perfect base storyline for a horror movie. And on further investigation – it turns out it's based on a novel by H.P. Lovecraft!
You discover the base camp deserted and most of the crew brutally slain (though not graphically so not an issue for younger viewers) but there is one of the team missing. You need to follow the clues left in his wake to discover him before it's too late.
Beginning at base camp you trek through beautiful snowy and deserted locations where many of your clues are hidden under snow drifts or hidden in plain sight. There are also hidden object locations where you need to collect the requested items, sometimes unique and sometimes multiples of the same item, as well as bonus puzzle rounds.
The graphics are gorgeous and you have the option to enable scrolling so that you get a more panoramic scenery, which is beautiful on the eye. The music is something I can take or leave but it does fit the graphics.
Game play is smooth and you can pick the easy option and have on screen tips, hints and tutorials to help point you in the right direction. There is a little bit of retracing your steps when you find an item that you can use on something you found earlier, at times this annoys me but it doesn't seem to be too apparent in this game.
The one thing that I REALLY loved about this one – you have the option to turn off Full Screen Mode so I can still see what else is going on in my other screens. A big plus for me considering I always have other things on my mind as well.
A pleasant way to fill an afternoon, brilliant for a distraction and great for the thinkers!
DOWNLOAD THE FREE TRIAL: Mystery Stories: Mountains of Madness