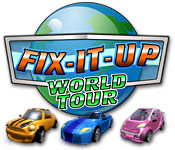 Personally I know nothing about cars, when someone starts talking about all things mechanical my brain automatically tunes out. When I was asked to try Fix It Up World Tour, I decided to set my caution aside and give it a minute of my time. One minute soon turned to hours and I was  running my own used car empire like a pro.
While I don't think my new found knowledge will transpire into my real life, this game certainly kept me entertained. The boss and main character in the game is a woman named Kate, and she has made a name for herself by buying old cars and fixing, painting and modifying them for a tidy profit.
There is even an eco feel as you earn environmental points from using special paints and parts. There are locations from around the world, and different cars and trucks for you to upgrade.
And guess what? There is even a love story for the romantic in you. Don't be deceived by the oil and motors ladies, this is a game for the girls!
Download the FREE trial: Fix-It-Up: World Tour