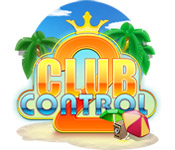 Club Control 2 is a funny little game, and I really can't decide whether I like it or hate it. It is quite basic as far as time management games go, all you really do is click click click and allocate your patrons to their selected station.
You are running a hip nightclub and your customers want to dance, play, drink and eat the night away. To begin with it is really slow and you are left sitting there hoping it will get faster, and it does. The Master goals can be a bit unrealistic but expert is usually achievable by earning extra tips from happy club-goers.
In the version I played there was a slight bug when I went to upgrade my counter, it didn't seem to register on the following levels which was quite annoying and my review would be much more positive if this didn't occur.
You can choose different styles of music to play at your club which is a good addition, and after every level you can select an upgrade (and hope they stick!)
If you are recovering from a weekend of clubbing or twiddling your thumbs looking for something to play, try the free demo and decide for yourself. This reviewer is officially stumped.
Download the FREE Trial: Club Control 2